Line graph: Car ownership
The graph below gives information about car ownership in Britain from 1971 to 2007.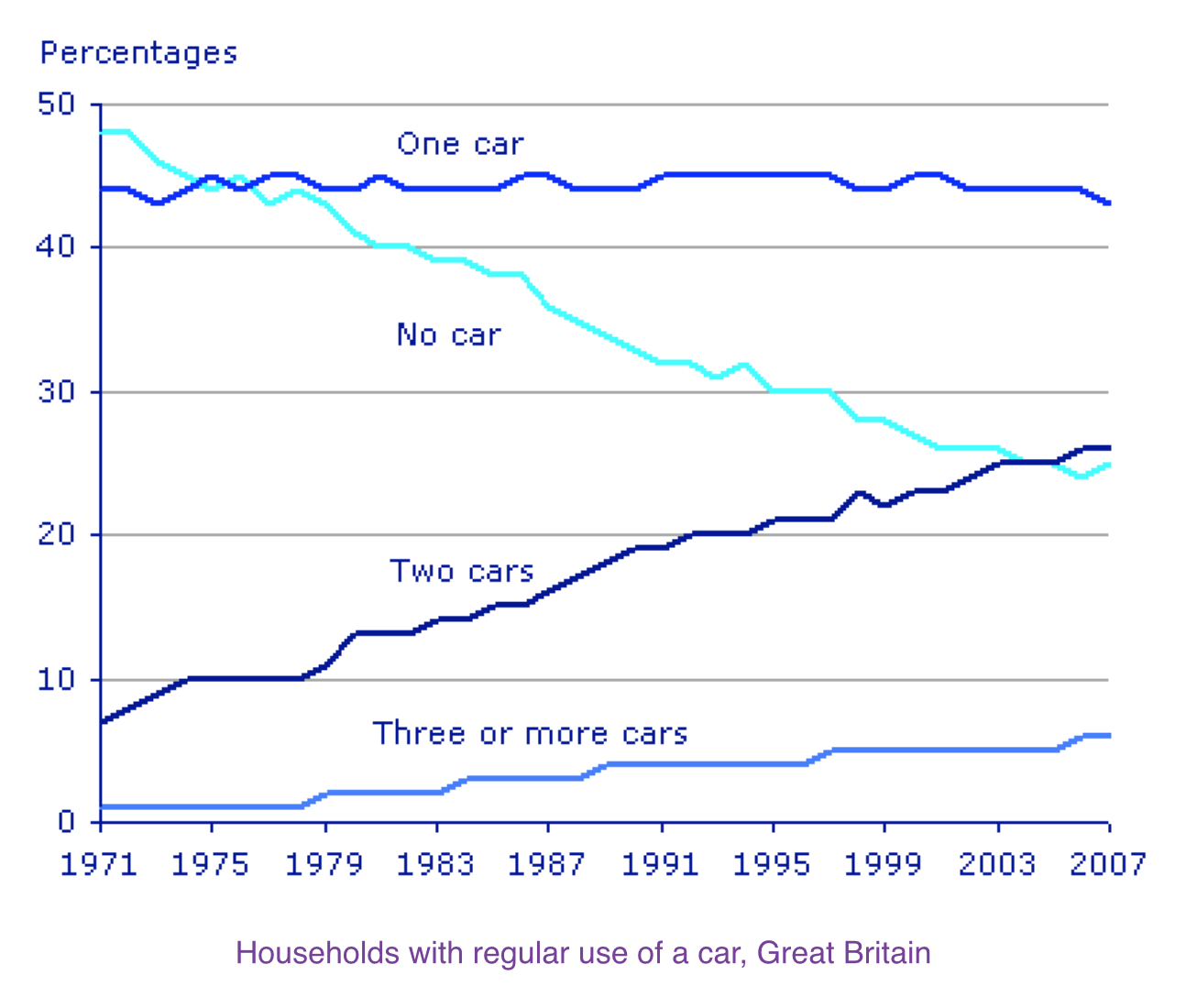 The graph shows changes in the number of cars per household in Great Britain over a period of 36 years.
Overall, car ownership in Britain increased between 1971 and 2007. In particular, the percentage of households with two cars rose, while the figure for households without a car fell.
In 1971, almost half of all British households did not have regular use of a car. Around 44% of households had one car, but only about 7% had two cars. It was uncommon for families to own three or more cars, with around 2% of households falling into this category.
The one-car household was the most common type from the late 1970s onwards, although there was little change in the figures for this category. The biggest change was seen in the proportion of households without a car, which fell steadily over the 36-year period to around 25% in 2007. In contrast, the proportion of two-car families rose steadily, reaching about 26% in 2007, and the proportion of households with more than two cars rose by around 5%.
Structure: 4 paragraphs, 9 sentences in total
The introduction paraphrases the question:
gives information about → shows changes in
car ownership → the number of cars per household
from 1971 to 2007 → over a period of 36 years
The overview contains two sentences that describe three main points:
Total car ownership increased.
The percentage of two-car households rose.
The percentage of no-car households fell.
Paragraph 3 compares all of the categories in the first year shown: 1971.
Paragraph 4 describes changes in the figures for each category, with a focus on the final year shown: 2007.
Here are some useful phrases from my answer:
over a period of
the percentage of x rose
the figure for y fell
almost half of all
it was uncommon for
with around 2% of households falling into this category
x was the most common type
from the late 1970s onwards
there was little change in the figure for
the biggest change was seen in
which fell steadily… to…
rose steadily, reaching…
Comparisons using: while, but, although, which, and